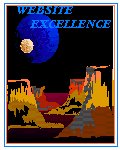 I reviewed your site and was very impressed



The "Greenwald Auto Repair" web site has been chosen to receive Award Nets '"Fren Award". This is in recognition of the countless hours of hard work
you've spent developing your web site. Though this award can't make up for
the frustration that often accompanies web site development, we hope you
will except this small token, as reward, for a job well done.